Setiawangsa Rangers Football Club was founded on 8th August 2018. The club is registered under the Commissioner of Sports Malaysia with registration number 9570/2018. Setiawangsa Rangers Football Club is a Affiliate Member of the Kuala Lumpur Football Association. Setiawangsa Rangers Football Club is also a Bronze Member of the FAM Suparimau Charter.
Setiawangsa Rangers Football Club is a football team that has successfully implemented grassroots programs in the parliamentary constituency of Setiawangsa. Among the ones with impacts to the community are Program Tunas Mentari Setiawangsa Rangers and Program Bulan Sukan Negara (National Sports Month) 2019. We hope that this success will garner some recognition from the corporate and private companies to sponsor future programs and activities.
Setiawangsa Rangers Football Club will continue to give our commitment to all the programs and activities, particularly in Setiawangsa. The victory of the Under-16 team during AirAsia KL Junior League is an eye-opener to everyone and now we continue by participating in KL Football League. We seek support from the public to ensure our success in future endeavour.
PROGRAMMES OF SETIAWANGSA RANGERS FC
STATISTICS OF SETIAWANGSA RANGERS FC
Setiawangsa Rangers FC represented by the President himself, Mr. Khushairi Aizad was interviewed on Radio Zayan by Mr Hadhari – or better known as "Ustaz Bola" in the Zayan Fit Segment to promote the club and the "Setiawangsa Virtual Juggling Challenge" programme.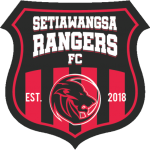 setiawangsa rangers channel
STAY UP TO DATE WITH OUR LATEST NEWS!
ㅤ
Something went wrong with the twitter. Please check your credentials and twitter username in the twitter settings.
promotions, publicity, media
Local Online Press Coverage
Electronic Media Coverage
TOTAL CATEGORY LEAGUE JOINED